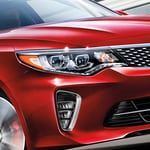 The Kia Optima has been recently redesigned to cater to the tastes of the modern driving public, and one of the most noticeable changes is the new name. Although it's now known as the K5, it still maintains the same level of quality and visual appeal that made the Optima one of America's favorite sedans.
The K5's starting price of around $24,000 puts a wealth of luxury and performance within reach of drivers in Erie and beyond. The powerful four-cylinder engine and eight-speed transmission combination effortlessly supplies 290 horsepower and more than 310 pound-feet of torque.
The K5 is available in LX, LXS, GT-Line, EX and GT versions. Each trim package comes with upgrades that include an oversized touchscreen, durable SynTex upholstery, wireless charging capabilities, large-diameter wheels and more. You can also take performance and handling up a notch by opting for all-wheel drive.