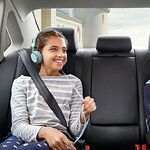 Road trips remain a favorite pastime the world over. Despite how smart and high-tech our auto safety features are, being prepared for your road trip is still the best way to keep your time on the road as safe as possible. Our Erie, PA Auto Express Rt8 Superstore team has a few tips.
Prep GPS, Research Route Beforehand
Plan and map out your road trip route, alternative routes, and potential detours before beginning your trip. Confirm that your GPS and navigation apps or software are up-to-date, online, working, and ready to use.
Roadside Assistance Kits
You can purchase these kits online or create one from scratch. It's simply a small bag, tote, or bin containing items you might need in the event of a breakdown: jumper cables, flashlights, warm clothing, and nonperishable food. Some kits have the barest necessities, just five to 10 items. Pre-assembled kits can contain up to 70 items, such as first aid kits, flares, blankets, and portable cell phone chargers.